Moving Do's and Don'ts: Common Mistakes to Avoid When Relocating
Posted by Danny Margliano on Monday, July 10, 2023 at 5:51:57 PM
By Danny Margliano / July 10, 2023
Comment
Moving is one of the most stressful things you'll ever experience in your life. If you think about it, you're leaving a place you've called home, moving all your things to an unfamiliar location, and doing everything to make that feel like home. There's nothing you can do about how stressful changing homes will be, especially during peak moving season.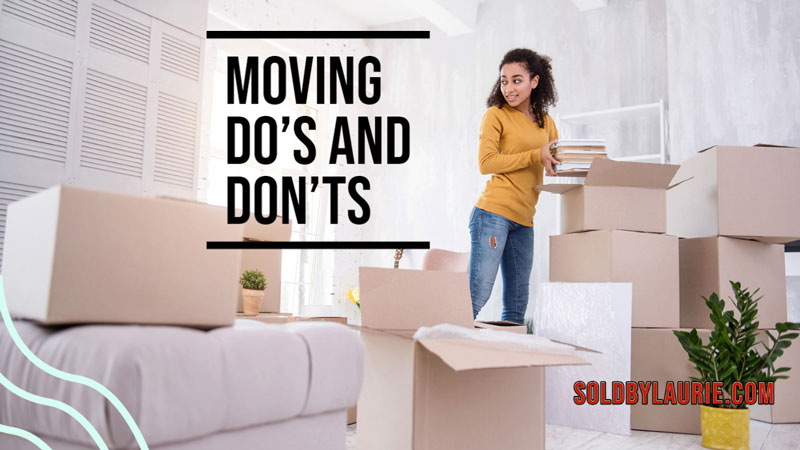 What you can do is minimize the stress of the process of moving itself. If you can have a to-do list that makes everything go smoothly, that would help a lot.
Let's say you're moving to paradise, Destin, Florida, where you'll have lots of time going to the beach and enjoying yourself on their numerous golf courses. Make sure you're well-informed on the general (and specific) things to do for that move.
In no particular order you can look at what you must do to make it easier on you.
✅Figure Out How Much Supplies You Need
This one is so often overlooked. Your mind is so set on moving that you forget to get the materials that you need to pack your things as efficiently as possible. Out of all the tasks, this is the only one I can honestly say you can DIY. But make sure you have the things needed to make it easier on your body (and patience).
This is definitely part of your moving expenses. If you don't have these materials on hand, it's necessary to get them.
Cleaning Supplies
Always remember to clean up the house after you leave. Otherwise, you can say goodbye to your security deposit.
That means scrubbing the floors, wiping down countertops, cleaning the walls, and making sure everything's as clean as when you came in. Have the carpet (if the property has it) shampooed and accept that this is part of the moving costs.
Some landlords require you to hire professional cleaners to come in when you leave, so review your lease agreement thoroughly.
Boxes
Of course, everyone knows you can't just throw your things onto the moving truck. For better organization, boxes have to be utilized. It may seem obvious, but there are different box sizes depending on what's to be put on them. You also have to figure out what those boxes are made of. For example:
Cardboard Boxes - The go-to boxes that have been used for centuries by working-class Americans. Why? Because they're cheap, light, and easy to put away after you're done with them. That's why the post office prefers them. Another bonus is that you can usually find cardboard for free if you know where to look. However, one thing that goes against them is their vulnerability to water. Once it gets wet, the paper dissolves pretty quickly. Then, you'll have to find another container.
Plastic Boxes - These are perfect for heavier things. Anything with sharp edges must be put in a plastic box so everything is locked in pretty tight. Another bonus is its ability to endure being wet. Now, it isn't to say your things will be safe from any kind of water damage, but if you keep your plastic box reasonably sealed, your things are safe short of being immersed under water for long periods.
Furniture Dolly, Straps, Harnesses
Some moving companies already have these materials and equipment on hand. But, if they don't, renting or buying some is a good idea. Most furniture damage happens when large furniture is being lugged around. You learned in science that wheels make any task easier. Follow your science teacher's advice(Thank you, Mrs. Tubman)!
✅Have Enough Time for Packing
The main cause of stressful moving is not having enough time to prepare. With that being said, you must give yourself time to pack. If you want to save money, you can do it here. However, packing has been so stressful for residents that it's probably a good idea to outsource it.
There are people who hire people to do the packing for them. It saves them a lot of time and aggravation.
There are companies like Community Labor Partnership - Movers, whose people have the expertise to pack for you - stress-free. They will remember all the things you're liable to forget because your mind is busy with other things. Hire movers with experience.
Here are a few of them.
Put Heavy Items at the Bottom
When you don't follow this rule, things get crushed. Pack boxes purposefully. It's easier just to put all your things inside a box and start taping it up, but that doesn't bode well for when you unpack later.
Since books are usually heavy, pack books in a single box, with the heavy ones at the bottom. It's the same thing with clothes. Pack clothes with the heavier ones (pants, trousers, coats, etc.) at the bottom and the shirts on top.
Never Leave Large Empty Spaces in the Box
The best thing you can do is estimate your box sizes and what you'll put in them. However, you can't do this perfectly since there's no such thing as a mistake-free move.
If you buy bigger boxes than you need, use materials such as bubble wrap and box fillers. It'll make sure everything inside the box is as secure as you can make them.
Pack an Essentials Bag
List down the important things you must have and keep them close to your person. Some of those things are:
Phone
Wallet
Keys
Important documents (Driver's License, IDs, etc.)
Mark Breakable Items as Fragile
Fragile items should be adequately protected and put in small boxes. Never lump them together with other items that can easily damage them. Believe me, seeing all your fine china or wine glasses broken adds unnecessary stress to your life.
With that being said, professional movers are extra careful not to make these kinds of moving mistakes.
✅Decide Which Belongings to Keep
Don't try to move things that you won't need in your new home. A good example would be outdoor plants. If you're moving to Florida's Emerald Coast, it's mostly coastal neighborhoods. The air will be salty, and plants you have that are not native there will probably die because of salt damage.
You don't have to get rid of everything, but you have to decide on what's practical. Unsalvageable possessions should be thrown out, and take only the thing you'll absolutely need. In most cases, the cost of transporting unnecessary items is more than just buying a new one.
✅Schedule the Installation of Utilities in Your New Place
The worst experience you can have is moving to your final destination (not the movie) and finding out that it doesn't have power, water, gas, internet, or all of the above. Schedule your utility installations accordingly.
Since we're talking about moving to Florida's Emerald Coast, the perfect place to retire to, have all of your utility installations done or finished within days of moving in.
✅Check the Moving Truck Before It Leaves
The best way to ensure nothing gets left behind is to have a checklist. Of course, you can't list all your things, but you can list all your boxes and label them so you can check with your moving company after you arrive at your new house.
❌Forget to Set Mail Forwarding and Change of Address
One of the common moving mistakes people make is forgetting about mail forwarding. Sure, not everybody uses mail nowadays, but there must be one or two correspondences you'll need to forward to your new address. These could be:
Magazines
Office mail
Package deliveries
Bills
❌Try to Help Your Movers
Hired movers are professionals at their jobs. The moving process is their expertise. If you try and help them, the most likely scenario is you'll just get in the way and make the packing process more difficult. You'll want this to be a stress-free move, so let them do their jobs.
❌Underestimate Your Move
The general rule is, if you think you've thought of everything, you haven't. There are always things you forget. That's why hiring professionals is such a good idea. They have their own checklist based on years of experience in dealing with all this.
Your movers can even help you evaluate if a piece of furniture is worth transporting. If it's not, you can always buy new furniture or used furniture as a budget-friendly alternative.
❌Unpack everything right away
Once you get to your new house, your first impulse will be to unpack immediately. In this case, don't follow what your gut tells you. Make the unpacking process part of your moving checklist.
For example, unpack the essentials first. That means taking out the plates and silverware because you still have to eat. Unless you plan to eat out.
Unpack your bed and pillows because you definitely need to sleep. All the other things you can unpack at your leisure.
Keep Everything Simple
When you don't overcomplicate things, good things usually happen. In this case, it will greatly ease your mind if you just avoid people's common mistakes when relocating and follow our moving tips.
Now, start packing and enjoy your time under the Florida sun.