11 Must-Do Activities When Visiting Miramar Beach, Fl
Posted by Danny Margliano on Thursday, January 12, 2023 at 11:21:41 AM
By Danny Margliano / January 12, 2023
Comment
Every place has a unique destination or spot that is its specialty, and you must go there to learn about it and discover something new. There are many ways to pass the time, but everyone enjoys traveling since it allows them to see recent locations and have a great time.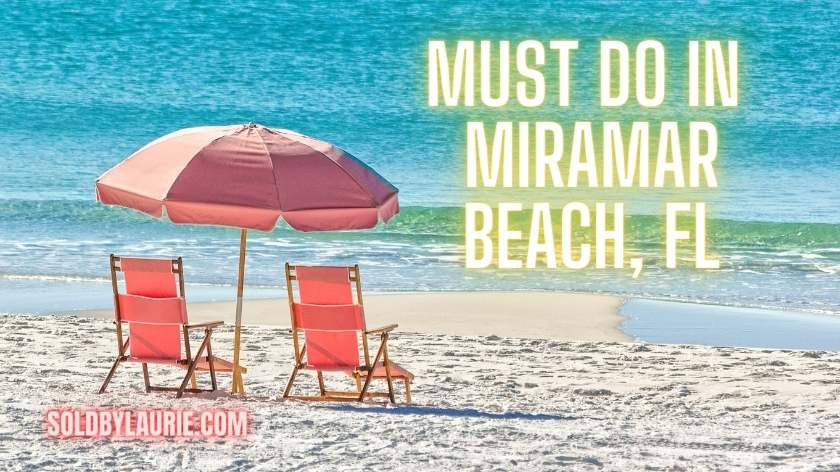 A popular tourist destination in Florida for visiting with family and friends is Miramar Beach, which is situated in the South Walton area and also has an escape room. Who doesn't enjoy the beach? What could be more soothing than playing on the sand, cooling down in the ocean, and sitting on a beach chair with drinks in hand?
The beach is well-known for its pristine waters and powder-soft white sands. The many activities offered to guests are kayaking, fishing, tanning, swimming, and exploring the town's shops and restaurants.
When you're done enjoying the Miramar beach, there are many attractions nearby that one may go to with their family to enjoy together, such as Casa Tuscany, Sandestin Golf Resort, Emerald Island Charters, Sailing Moby Adventures, Coastal Cruisers, etc. Additionally, you may go snorkeling at the dolphin reef, take a banana boat ride, or engage in a combination of these and other fun water sports with your entire family.
There are many must-do activities you can try while visiting Miramar Beach
1. Visit the beach
You can stroll down the beach with your significant other, alone, or with family members and take a dip in the crystal-clear ocean. Enjoy the clean, clear water bath and play in it. For young children, you can carry a swimming ring float and tether it to yourself, along with safety gear such as swimming caps, ear plugs, nose clips, and goggles for your eyes. You can also check out the tide pools there. The beach is surrounded by a regenerated forest, as well as picnic tables, restrooms, changing rooms, and playgrounds for kids.
2. Go to Grand Boulevard
Take in the Grand Boulevard at Miramar Beach. Here, you'll find restaurants, national chains, high-quality goods, entertainment by regional musicians, Christmas festivities, Fleming's Prime Steakhouse & Wine Bar, and a state-of-the-art 10-screen Boulevard 10 Cinema where you can catch thenewest releases and spend your happy time with friends and family.
3. Zoo Gallery
The Zoo Gallery is an American Handicraft art and gift shop where you may find a distinctive selection of pottery, jewelry, prints, paintings, furniture, home décor, and downright bizarre but great stuff!
You'll enjoy this site a lot if you want to bring some souvenirs home from Miramar Beach and save some of your memories of it.
4. Axe Throwing
Hurl a few axes-  Axe throwing, mini-basketball, and other live entertainment activities are available at Gulf Coast Axe House, which is also known for its specialty donut and cookie ice cream sandwiches that come in more than 24 flavors. Homemade ice cream from Florida is a specialty of this venue.
5. Escape Room
Visit Escape Zone 60 if you're looking for a fun activity to do with your family and friends. Escape Room 60 has many unique and themed escape rooms, each with a different backstory that tests your ability to work with others and solve puzzles in this escape room.
6. Go Jet Skiing
Jet Ski Island adventure: Try the Crab Island Dolphine Jet Ski to see the manatees, rays, and dolphins that live there and to take in the natural beauty of the surrounding waters. You will experience a new ocean explosion due to this, one that you will never forget. This adventure is fun and amazing.
7. Glass Bottom Boat Tour
Boogies Rentals is close to Miramar Beach, where you may take a Glass Bottom Boat trip to see the Destin beaches up to the Miramar Beach coast. Boogies Glass Bottom Boat Tours provides a wide range of educational opportunities, including interactions with dolphins and bird feedings. The ability to interact with animals up close and in person while on a trip will captivate the entire family.
8. Parasailing
Parasailing - At the beach, you may enjoy activities like parasailing, paragliding, scuba diving, snorkeling, boat excursions, dolphin and whale watching, air tours, snorkel tours, and banana rides. You must see the stunning, crystal-clear sea, which is right on the beach and is home to an abundance of marine life.
9. Arcade and Laser Tag
Arcade games like pinball or board games and thrills laser tag are also available for an engaging and intense gaming experience; this might be a unique pastime to try out in this lovely environment. People of all ages like playing laser tag, and fans of arcade games can also have a great time there.
10. Fishing
Try out fishing in Miramar, where you can discover a wide variety of new species and fishes with different hues, textures, and shades. Fishing is enjoyable when you catch many of them quickly, and the Miramar Ocean is home to much stunning fish. You can learn about these creatures, pet them, or do whatever makes you happy.
11. Eat Out
Miramar is blessed with excellent meals, bars, and cafes. Everyone likes to enjoy a delicious meal and engage in enjoyable activities; thus, a location is often considered desirable if it provides all the good services and, most often, good cuisine for the visitors. You can try some grilled seafood, elegant desserts, a French or Italian deli, and a variety of other well-known cuisines you have never eaten before and will undoubtedly enjoy. it.
Now that you have 11 ideas for what to do in Miramar Beach Florida, see how many of them you can fit into your vacation. this is our list of must try activities when visiting Miramar Beach, Fl. If you come up with any additional suggestions please email let us know.