4 Fun Things to do in Miramar Beach
Posted by Danny Margagliano on Monday, September 6, 2021 at 8:25 AM
By Danny Margagliano / September 6, 2021
Comment
4 Fun Things to do in Miramar Beach
When you buy a home in Miramar Beach, you will not be bored! There is non-stop entertainment to be found at the Grand Boulevard at Sandestin and The Sandestin Golf and Beach Resort.
The Grand Boulevard at Sandestin Town Center
The shops, restaurants, and movie theaters you expect to find at a shopping center. However, this is no ordinary shopping center. Shops include Lily Pulitzer, Peter Millard, and Vineyard Vines – to name just a few. If you find you're hungry, you might want to grab a bite to eat at Emeril's Coastal Italia, or take in a movie while you munch on appetizers and sandwiches in the Ovation Dining Club. The Boulevard 10 Movie Theater offers the latest blockbuster films in its state-of-the-art yet classic Modern Deco theater. Putting the center in Town Center, Coastal Culture offers social events, concerts, and live theater performances throughout the year.
Zoo Gallery
The Zoo Gallery is a shop at The Grand Boulevard, but it's worthy of its own mention. The shop/gallery was opened in 1979 by Chris and Roxie Wilson who had a vision of sharing unique art and merchandise from around the world with their customers. For the past 40 years, they have been scouring the globe to find, in their words, "an eclectic array of pottery, jewelry, prints, cards, furniture, home décor, and some downright weird stuff!" When you make your home in Miramar Beach, you won't ever have to give a boring gift again.
Sandestin Golf and Beach Resort
The Sandestin Golf and Beach Resort offers clubs that are tailored to a variety of interests. Private, members-only clubs include the Burnt Pine Golf Club, The Beach Club, and the Resort Club. As a member of the Burnt Pine Golf Club, you will have unlimited access to all its features – one of Sandestin's four championship courses, the practice facility, and PGA golf instruction. There is a private fitness facility for club members, as well as private social events throughout the year.
The Beach Club
The Beach Club offers access to a private beach with amenities such as chairs, umbrellas, and towel service as well as a private heated swimming pool. When you are a property owner at the Sandestin Golf and Beach Resort, you have access to the Resort Club. Membership offers discounts on golf, 15 hours of tennis court time, preferred beach parking, access to the fitness center, and discounts on a variety of other resort services.
Additionally...
Other clubs at Sandestin Golf and Beach Resort include the Golf Club, Tennis Club, and Fitness Club. Members of the Golf Club enjoy unlimited access to the Baytowne and The Links Golf clubs with no greens fees. As a member, you can play on the Raven course for a reduced green fee. There are other benefits that come with membership including advance registration, reduced cart fees, and other discounted rates. If tennis is your game, you can join the Tennis Club which gives you unlimited time on twelve HydroGrid clay courts and three hard courts. You will also receive full access to clubhouse facilities and year-round tennis activities, as well as reduced rates on tennis lessons. As a member of the Fitness Club, you can enjoy all the equipment, classes, and locker room privileges the state-of-the-art fitness center offers.
The Village of Baytowne Wharf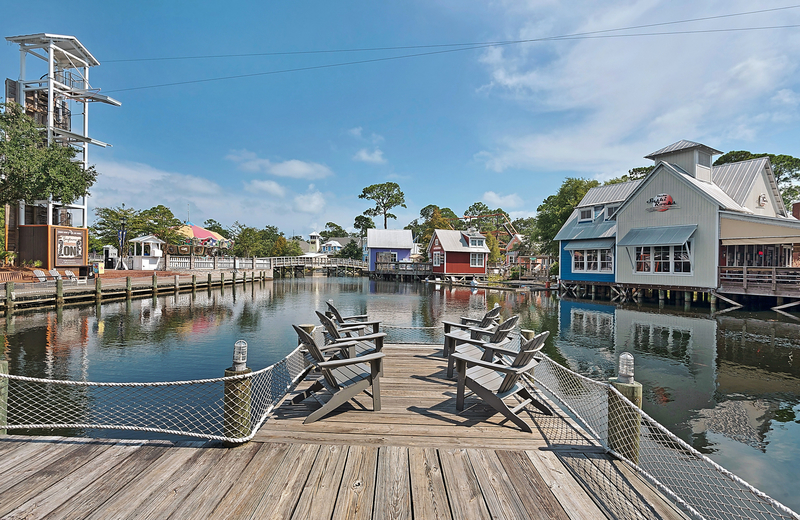 Whether you make your home at Sandestin Golf and Beach Resort or elsewhere in Miramar Beach, the Village of Baytowne Wharf is a fun place to enjoy a day of relaxation and entertainment. The Village of Baytowne Wharf has an eclectic assortment of boutiques, bars, eateries, and nightlife. Live music can be found throughout the year, as well as various outdoor festivals and family events. Additional entertainment options include zip lines, a ropes course, an arcade, a carousel, and a walk to the wharf.
Residents of Miramar Beach and Destin areas not only have white sandy beaches and emerald green waters to enjoy, but also top-notch shopping, restaurants, and entertainment. Talk to your realtor about finding your home today.